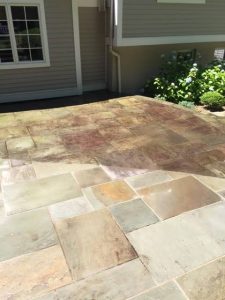 Dirt and grime build up on homes, walkways, apartment communities, and commercial buildings. Mold and mildew grow in dark areas while algae proliferate in sunlight. A professional pressure washing will remove all of this debris using the right pressure settings to protect the surface of the building.
Some areas need a soft pressure wash to remove dirt and harmful pathogens. Special detergents are also used with the power washer for different surfaces. Roofs receive a special roof shampoo to carefully remove dirt without harming shingles or tiles.
You can rent equipment to try to do-it-yourself, but you may not know the correct water pressure settings or cleaners for the surfaces you want to wash.
Pressure Washing Can Be Dangerous
A person not familiar with the equipment can lose control of the strong pressure washing hose and nozzle assembly. It is not advisable to use a ladder to reach higher areas with a pressure washer in one hand. Consumer Reports has issued a safety alert for DIY pressure washing.
DIY safety issues can be easily avoided when a professional with the right equipment is hired to pressure wash, we hope you will consider hiring a professional for projects like this and avoid unnecessary injury to your home or worse yourself.
Homes and Buildings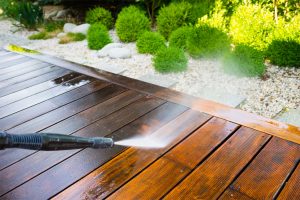 The climate in Fairfield Painting Contractor County and Westchester County in general ranges from snow and ice in the winter to heat and humidity during the summer. Melting snow and rain leave streaks of dirt on buildings and roofs. Windows, doors, fences, and decks need cleaning as well.
Most buildings with vinyl, brick, stone, and shingle siding will take a strong pressure wash to remove the dirt and grime. Faux stone and some shingle material will take a lighter setting. We use special non-toxic cleaners to remove dirt and pathogens.
Power Washing: Decks, Steps, Fences, and Walkways
Dirt builds up on sidewalks and steps from our shoes. Driveways get extra dirt from vehicles. A strong pressure wash will remove oil from driveways and garage floors. Dirt that accumulates in the corners of steps can also be removed with a strong pressure setting.
Decks also need good washing to remove dirt. Patio decks and outdoor furniture along with patio roofs will also benefit from a special soft power wash.
Power Washing Pool Decks
A swimming pool deck may have a buildup of algae in the grouting.  Our team can help:
A special non-toxic wash will remove all of the algae
Grime and dirty water is directed away from the pool.
All decks can be sealed after washing.
Grime can be removed from a wood, stone, or brick fence with a pressure wash. This adds to the curb appeal of any property.
Fairfield Wash and Seal, part of the Westchester Team, invites your to contact us to learn more about our pressure washing services. We clean a wide range of surfaces using safe, modern equipment and the proper settings. We are professional power washers, our team has all the right equipment for safely washing all surfaces around your home. We can help remove grime and algae while protecting the building materials that keep your home strong.
We hope you will contact us or another professional power washing team near your home and avoid the costly and sometimes dangerous pitfalls of a DYI power washing project.
In the Fairfield County area and looking for a power washing company near you, Contact us for a free estimate we travel the entire county for power washing jobs!