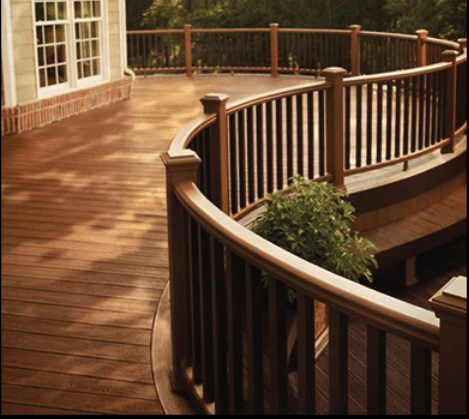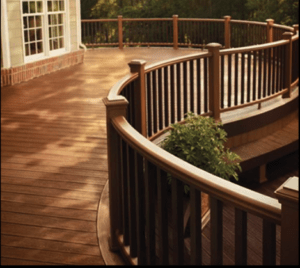 Composite deck repair services Fairfield County Connecticut
Composite Deck Repair, Refurbishment & Replacement (partial and complete) – Fairfield
Composite Deck Repair Fairfield – First, there is no standard composite decking material. That is important to understand. While the composite decking industry certainly has its popular brands the composite decking materials used vary in construction and composition.
Typically composite decking is made from a combination of recycled wood fibers and plastic. Some manufacturers sell composites that are entirely made of plastic or are plastic wrapped around a wood core.
While industry leader Trex Decking creates a composite decking material from completely recycled material.  Because of this, composite deck repair takes some preliminary research before the damage can be fixed.
Why Choose Fairfield
Wash and Seal?
We offer complete composite decking repair, refurbishment and cleaning services.
Our composite decking service is completely Eco-friendly.
Your satisfaction is guaranteed.
We offer the finest composite decking care and services anywhere
BENEFITS OF COMPOSITE DECKING
Durability: Composite decking is designed for maximum durability.
Composite decking: resists fading, staining, scratching and mold, and won't rot, crack or warp.
Composite decking is more or less insect-proof and splinter-free, making it safer and more comfortable for families with kids and pets.
Our Composite decking services are 100% eco-friendly
Our Composite Decking Care Services:
Our first step is always an inspection. Then we can determine exactly what your composite deck is made of and what needs to be repaired, replaced or repositioned and how best to do it.
Deck Repair Services:
While most composite decks are sold as being 'maintenance-free' that is simply not the case. Composite decks can be scratched or damaged by weather just like any other deck – but truth be told it happens a lot less.
Most often we are called out to look at composite deck repairs that are actually surprisingly inline with standard deck repair including:
Handling Discolored Planks:


Composite decks are exposed to foot traffic, the four seasons, and the sun's damaging UV rays. Eventually, they too lose their luster and become discolored.
When repairing a discolored composite deck:

Sanding is not an option; the plastic burns and melts in the heat of the friction sanding will generate. Paint is not recommended as paint tends not to adhere well to composite decking material.
Just like a "real-wood deck", composite decking materials are prone to scratches, dents and dings from the hands of time, natural debris, running children and moving outdoor furniture.
The best way to deal with these scratches varies by manufacturer and by composite decking type.
Some composite decks recommend not working scratches and abrasions as in time, they will blend in with the rest of the decking. While other manufacturers say that the heat from a soldering iron applied to the scratch or flaw will help it disappear. As is with everything, knowledge is your best resource and information gathering is always our first step.
Repairing Board Damage With Filler
If the boards on your composite deck have chips or small cracks, we can help repair them with the materials suggested by the manufacturer; this is usually wax or epoxy-based filler. Sometimes a putty knife helps smooth out the application and provides a more uniform look to the repaired board.
Repairing Heavier Damage
Substantial damage, such as deep abrasions, broken boards and deep scratches, usually call for the replacement of the plank or section. These types of repairs are more straightforward.
Have questions? Window shoppers are always welcome as helping our friends and neighbors is our pleasure. We look forward to hearing from you.