Wallpaper Installation
Fairfield Wash and Seal Inc.'s professional wallpaper team have been trained in the craft of wallpaper hanging and wall-covering application. Our wallpaper installation products exceed customer expectations time and time again.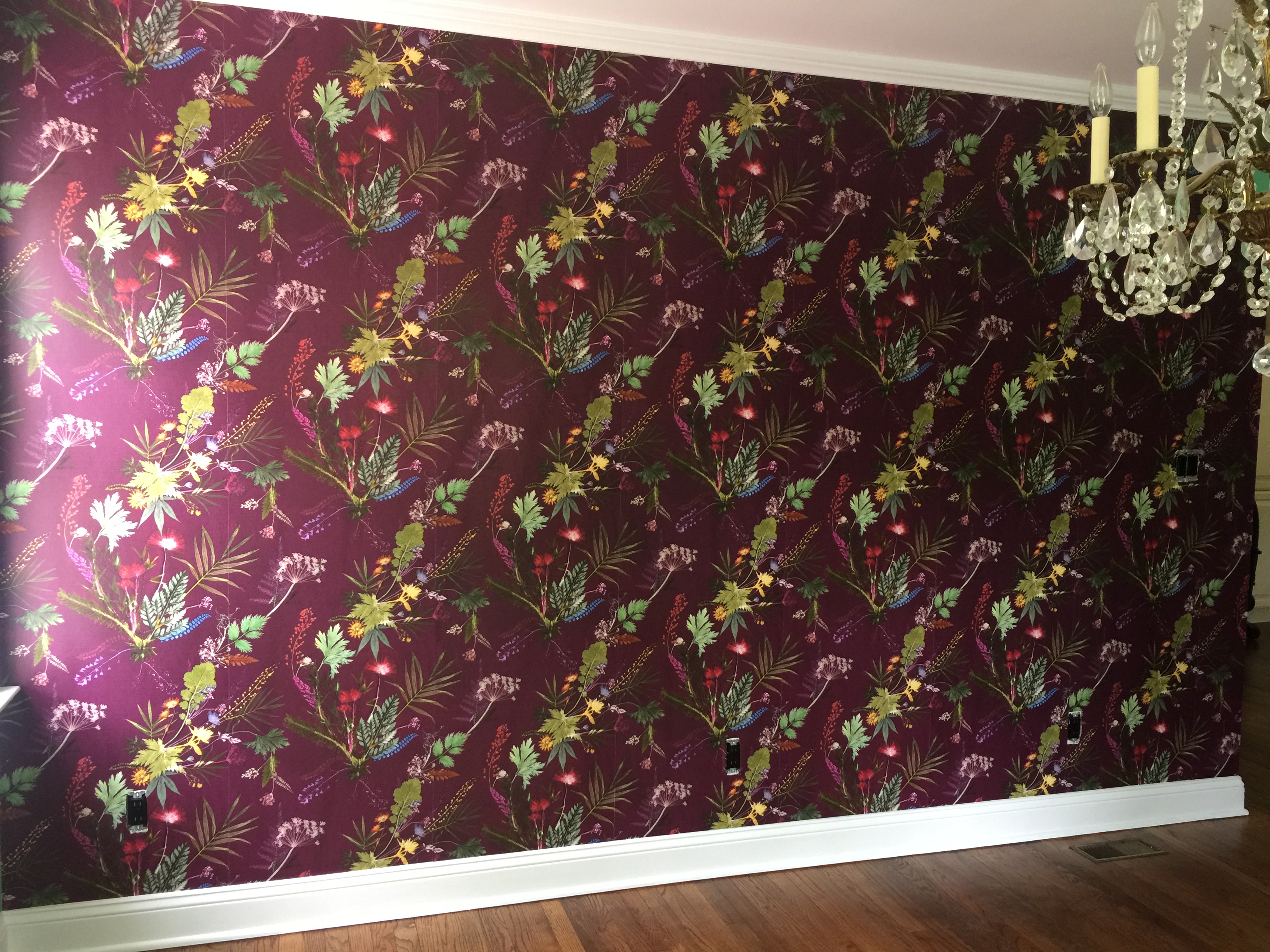 Our experienced wallpapering experts will complete your wallpaper installation project with expert precision. Our team is committed to providing the finest quality wallpaper installation and removal service found anywhere in Fairfield County, Connecticut.  
From your first phone call discussing wallpaper options to the final walk through after the job is finished, our main priority is exceeding your expectations. We are not like other wallpaper installation companies–we are a locally owned, ecologically-minded company paying particular attention to the details so you can enjoy the creative transformation happening in your home without worry.
Our experience and expertise in wallpaper hanging and wallpaper installation is unmatched in Fairfield County.
Our wallpaper hanging services include:
Wallpaper hanging/wallpaper installation

Wallpaper removal
Professional Wallpaper Installation
Anyone who has attempted to hang wallpaper themselves can attest: having a professional complete the wallpaper hanging installation makes all the difference. That's why we're here to help. It's a tricky job that we're trained in, so we get it right the first try, saving you time and money.
We specialize in wallpaper installation and ensure a clean, precise installation with competitive pricing and a focus on service and quality.
Wallpaper hanging and installation is an art, and we love the creative challenges presented. Whether you're using wallpaper to accent architectural details within your home or to transform a room with bright pops of color, our wallpaper installation professionals will gladly meet your vision.
Wallpaper is back in style!
Modern uses of wallpaper can add charm, depth, and color to your home. Quickly and relatively inexpensive wallpaper can transform a room in a way that paints simply can't. The past 10 years brought a home design renaissance for wallpaper and we have seen a steady growth of our wallpaper hanging services.
At Fairfield Wash and Seal, we are helping homeowners and home designers alike embrace wallpaper projects with confidence. We have the know-how to get your wallpaper hanging project installed perfectly, on time, on budget and to your exact specifications!
Types of Wallpaper as described by Home Advisor
Vinyl coated wallpaper is one of the most diverse types, suitable for most any room but particularly the kitchen and bathroom due to its improved water resistance. This type of paper is made when printed paper product is sprayed or coated with acrylic vinyl or polyvinyl chloride (PVC) on its surface. This coating makes washing easy and also makes the surface resistant to grease and moisture penetration.
Coated-fabric wallpaper is made by printing patterns directly onto a vinyl- or acrylic-coated fabric. Considered more breathable and of higher quality than vinyl-coated paper, and thus up to twice as expensive per roll, coated-fabric paper tends to absorb moisture rather than repel it. Therefore, this type is a poor choice for kitchens and bathrooms as well as for homes in climates with sustained high humidity levels and no air conditioning.
Paper-Backed or Solid-Sheet Vinyl Wallpaper
Paper-backed Vinyl wallpaper, also known as solid sheet vinyl wallpaper, is incredibly durable and easy to clean. It is made when a paper substrate is laminated into an acrylic to create a single, solid decorated surface. Solid sheet vinyl papers are also often embossed to give texture to a wall surface, making them a more dynamic alternative to vinyl-coated paper while remaining available at a similar price point of about $45 per roll on average.
Because they are easy to peel, removing this paper is simple, but that also means that paper-backed or solid sheet vinyl does not hold up well in high-traffic areas such as mudrooms.
Fabric-Backed Vinyl Wallpaper
Similar to the vinyl-coated paper, fabric-backed vinyl wallpaper has a strong, moisture-resistant surface of acrylic or vinyl. However, as the name implies, this type has a fabric backing rather than a paper one. As a result, fabric-backed vinyl paper is incredibly durable and tear-resistant as well as impervious to moisture and humidity. Because of these traits, it is common to find fabric-backed vinyl wallpaper in commercial applications and in high-traffic residential rooms.
Less Common Wallpaper Types
In addition to these common types of wallpaper, there are many other premium and traditional types to note, including the velvet-like flock wallpaper, the polished-looking foil wallpaper, natural bamboo wallpaper, and even just plain paper that resembles kraft paper. These less common types are generally more expensive (with the exception of plain paper) and usually more fragile than the modern vinyl and coated varieties found in most home improvement and decor stores.