Latex Painting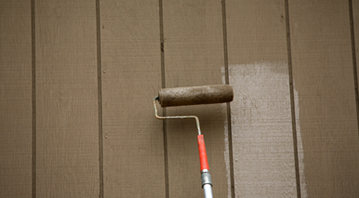 Fairfield Wash and Seal Inc. recommends using latex paint for both the interior and exterior of your home. We believe in latex paint because it's environmentally-friendly with a low-VOC content. VOC gives oil based paints that awful smell. Latex paint is the most durable product for our cold Fairfield winters and hot summers.
Not only is latex paint environmentally-friendly, it is more long-lasting and durable. Latex paint offers better protection against UV rays than oil-based paints. It's also mold and mildew resistant, which is important in our Fairfield climate. Not only is it easy to apply, it is fast drying and comes in a vast array of colors, so your style choice doesn't have to be limited.
Water-based latex paints simply perform better in our climate because of their elastic-like quality. It can quickly adapt to changing temperatures, allowing it to be flexible as your house goes through its natural expansion and contraction cycles, which means no cracking or peeling. Latex paint is breathable, preventing moisture build-up in the wood behind it, and latex paint also dries faster, which means you can get back to enjoying your home in no time.
Benefits of Latex Paint include:
Latex Paint doesn't yellow over time.
Latex Paint is better for the environment.
Latex Paint dries faster than other paint types.
Latex Paint is much easier to clean up.
Another quality of latex paint that makes it such a good product is that it is easy to clean. It resists scuffing, crayon marks, dirt, and stains and is completely scrubbable for when life gets a bit messy. Exterior latex paint is strong and stands up to the intense pressure of power washing better than any other exterior paint. Latex paint will help your home stay looking clean and new.
Latex paint is the most popular paint on the market, accounting for approximately 85 percent of paint sales in the United States!
Latex paint is less detrimental to our environment than oil based paints because it contains less hazardous chemicals. Latex paint requires proper clean up as it still contains acrylics, vinyls and epoxies.Fairfield Wash and Seal will dispose properly of all materials used so you can focus on enjoying your home!