House Painting Contractor
We respect your time and understand the importance of completing every home painting project we take on – on time, on budget and to your complete satisfaction. We are working to become synonymous with home contracting excellence in Fairfield County, and you will see the difference from our first call to our final walk around.
My team will keep a clean and tidy job site, respecting your schedule and any special requests made. Your complete satisfaction is our priority – we do things differently. Expect an extraordinary level of attention and care from our first point of contact.
Fairfield Wash and Seal is a fully licensed and insured home painting contractor serving Fairfield County, CT. Have a question about a potential painting project? Give me a call- I'll be happy to help and answer any of your questions.
Getting a free quote is simple! Fill out the form to the left,  
or call me – my cell phone number is: 203-910-4266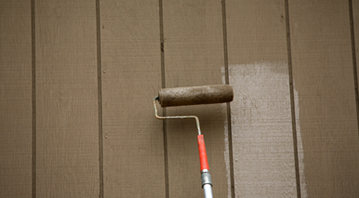 Our company completes an extensive range of painting projects throughout Fairfield County including — interior painting and exterior painting of residential, commercial, public, and industrial buildings.
Fairfield County has many painting contractors; at Fairfield Wash and Seal, we pride ourselves on customer service, project success, and quality. While we may specialize in power washing, we are also experts at interior and exterior painting. The two are very closely related when performed by experts. Our painting services are done by painting professionals who are local to our Fairfield County area and are dedicated to their craft. Our painters will partner with you to ensure our interior and exterior painting services not only meet but exceed your expectations.
We understand, sometimes pressure washing your vinyl or wood exterior isn't enough; maybe you want to change the color of your home completely—Fairfield Wash and Seal is also home to some of Fairfield County's finest painting contractors! Re-painting your home is faster and more affordable then re-siding it and can be more advantageous in many cases.
Fairfield County, CT Painting Contractor
Exterior Painting
Revitalize the look and feel of your Fairfield home with a fresh coat of exterior paint! Painting your home is faster and more affordable then re-siding it and will have a dramatic, lasting impact on your home's outward appearance. Want to boost your Fairfield homes curb appeal? Even a change of your homes trim color can completely makeover your home's appearance, looking to add just a pop of color? Hire my painting team to re-paint your front door to joyfully welcome visitors.
Exterior House Painting Fairfield County, CT
wrought iron fence painting
deck staining
siding, trims, windows, and doors: stripping, painting or staining
porches: power wash and seal
Belgium/CMU-block waterproofing
Anti-graffiti coating
Interior House Painting Fairfield County, CT
Our interior painting services include painting, drywall, plaster repair wallpaper: stripping and installation. When was the last time the rooms of your home were painted? A fresh coat of paint in your living room will modernize, expand and improve the appearance and energy of the room. Our painters are detail-orientated and take great care in the work we do. We can also help with the wallpaper, drywall and plaster repair.
Our interior painters will transform your home. You won't believe the difference a coat of paint can make. We also specialize in kitchen cabinet refinishing.
apartment and condominium interior paint

condominium common areas: hallways and staircases

faux finishes like wood paneling
Here at Fairfield Wash and Seal, if we can clean it, we can paint it! No painting project is too big or too small—we're just as happy to paint an accent wall in your living room as we are to paint your entire home.

power washing
Power washing, or pressure washing as it is also called, is a fast and easy way to clean your home's exterior.

sealing
Here at Fairfield Wash and Seal, we know that deck staining is a fast way to make an old deck look new.

painting
We may specialize in power washing your home, but we are also experts at interior and exterior painting.