Deck Staining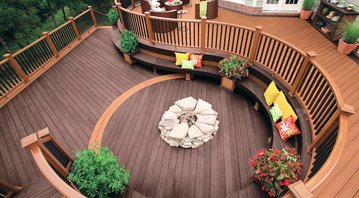 Here at Westchester Wash and Seal, we know that deck staining is a fast way to make an old deck look new. Not only will this increase the value of your home, you'll be protecting your investment and enhancing your lifestyle by making that beautiful deck a place you and your family will want to enjoy.
Why stain your deck?
Staining your deck renews the life of the wood—a good professional grade stain will get into the wood's fibers and in case the wood with a protective shield that will not only look great but extend the lifetime of your deck. A change in wood stain color breathes new life into your deck without having to replace it–you'll be amazed at how a new stain can revive the entire appearance of your Westchester home.
Westchester County Deck Staining Services
In Westchester, our snowy winters followed by the freeze/thaw cycles of a wet spring set up your deck for even more damage from the summer sun that surely bleaches and warps the wood. When we stain your deck, we begin by pressure washing the surface. Power washing your deck removes years of dirt and grime, as well as any leftover remnants of previous seals and stains. Then, we work with you to choose the right color of stain that will complement your deck, home, and surroundings. After the stain has cured, we come back and seal the wood to lockout all the natural elements that can degrade it.
---
Benefits of staining your homes deck or other wood surfaces include:
Staining allows you to protect your decks wood; which is exposed without it.
Staining preserves the life of wood
Staining prevents the splitting and cracking of the wood and can help prevent splinters.
Deck staining enhances the look of your wood deck.
Staining also increases the life of the wood.
The process of deck staining is simple, effective and fast. We can take an old and weathered wood deck and make it look like the planks are completely new. A new stain will tie your deck and home back together, add curb appeal while enhancing your family's outdoor lifestyle. There is no need to spend thousands of dollars replacing your entire deck when you can restore it back to its original and natural looking condition you first loved.

power washing
Power washing, or pressure washing as it is also called, is a fast and easy way to clean your home's exterior.

sealing
Here at Westchester Wash and Seal, we know that deck staining is a fast way to make an old deck look new.

painting
We may specialize in power washing your home, but we are also experts at interior and exterior painting.