Pressure Washing Weston Connecticut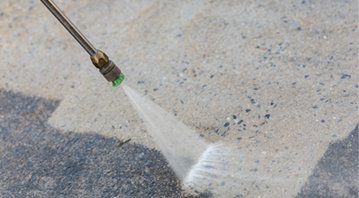 Power washing or pressure washing as it is also called, is a fast and easy way to clean your Weston home's exterior.
Power washing your home will restore your sidings luster and ensure the health of your home's siding and stonework. Fairfield Wash and Seal can power wash your home's, sidewalk, driveway, or deck, deck furniture and more. Our power washing team is the best in the area. We are known for our fast efficient service, friendly personable power washing technicians, and unbeatable quality and attention to detail.
We are dedicated to power washing, window cleaning, and deck sealing work only in Fairfield County. Ensuring fast service, competitive pricing, and unbeatable customer service. We have been in the power washing business for 11 years, unlike other handyman companies that offer power washing and a bevy of other services—we're power-washing experts! While we offer a number of other home cleaning and improvement services we have limited our offerings allowing our teams to become true masters of our services.
When working with Fairfield Wash and Seal, you won't have to worry about our power washing disturbing your trees, shrubs or flower beds, we take pride in our work and follow every precaution to protect your surrounding landscape and lawn.
Weston Connecticut Pressure Washing 
Benefits of pressure washing (power-washing) include:
remove stains from home, drive, and walkways
clean and brighten fences, play equipment, yard furniture etc.
make your homes exterior cleaner and more sanitary for children
remove plants growing where they shouldn't.
prepare an area for a painting or staining project.
We use a professional grade power washer, with safe environmentally-friendly industrial cleaners to remove algae, dirt, and grime off of your concrete, pavers, and stonework. Power washing will ensure your Weston home looks great not only across the street but at your front door too.
Many people only consider pressure washing their entryways and sidewalks, but have you thought about your siding, roof, deck, patio, pool area or driveway? You won't believe what a big difference it will make in your home's curb appeal! After power washing, we then protect your surface with a waterproof sealant to prevent future buildup and grime, ensuring your Weston home not only looks beautiful – but stays that way!
Pressure Washing Weston Connecticut
Power washing your home's siding or wood paint can enhance the unique character of your home and surrounding structures. We know that Power washing your Weston home is a great way to protect your biggest investment by fortifying your home from harmful elements.
The combination of our professional cleaning expertise and modern pressure washing and surface cleaning equipment delivers outstanding exterior cleaning results to our power washing clients.
When was the last time you washed your home's exterior?
Mold, mildew, dirt, and grime can become embedded in your home's siding without consistent cleaning. Not only does this dirt have an impact on the health of your home but is also impacts its appearance and overtime will devalue your home and property.


Weston, CT 

power washing
Power washing, or pressure washing as it is also called, is a fast and easy way to clean your home's exterior.

sealing
Here at Fairfield Wash and Seal, we know that deck staining is a fast way to make an old deck look new.

painting
We may specialize in power washing your home, but we are also experts at interior and exterior painting.
Bethel Connecticut Pressure Washing, Bridgeport Connecticut Pressure Washing, Brookfield Connecticut Pressure Washing, Danbury Connecticut Pressure Washing,Darien Connecticut Pressure Washing, Easton Connecticut Pressure Washing, Fairfield Connecticut Pressure Washing, Greenwich Connecticut Pressure Washing, Monroe Connecticut Pressure Washing, New Canaan Connecticut Pressure Washing, New Fairfield Connecticut Pressure Washing, Newtown Connecticut Pressure Washing, Norwalk Connecticut Pressure Washing, Redding Connecticut Pressure Washing, Ridgefield Connecticut Pressure Washing, Shelton Connecticut Pressure Washing, Sherman Connecticut Pressure Washing, Stamford Connecticut Pressure Washing, Stratford Connecticut Pressure Washing, Trumbull Connecticut Pressure Washing, Weston Connecticut Pressure Washing , Westport Connecticut Pressure Washing, Wilton Connecticut Pressure Washing